Notice: The ELP webpages have been updated for 2023-2024. They are under final review. Thank you!
Home
Hunters Role Play Characters
Hunters Role Play Characters
Role play is a big part of the environmental living program experience. To make the most of your program, here is a list of real people who were at Colony Ross, including short biographies of what we know about their lives. All officers and employees in the Hunter Role Group should choose one of the following people out of the history pages of Colony Ross to role-play while on site. Remember to have fun and 'role' with it!
Iakov Dorofeevich Dorofeev (Ee-yahk'ov Dor-o-fey'e-vich Dor-o-fey'ev) – A Russian, in 1802 he joined the RAC. In 1822 or 1823 he accompanied Karl Schmidt, the new manager of Colony Ross, and a party of 'Aleuts' on a journey by baidaras up the Slavianka River (Russian River, and called Shabakai by the Pomo). In 1824 (with an agreement made in 1823 with Don Luis Arguello, the governor of California), Dorofeev led a hunting party along the shores of San Francisco Bay. Later in the1820's, Dorofeev returned to Alaska and became manager of the Unalaska office in 1829. He held the post until September 1832, when he died.
Agchyaesikok Roman (Ro-man') – A Kodiak, possibly a hunter for the Company. He drowned in March 1821. He was married to Kobbeya, a Southern Pomo. When he died Kobbeya returned to her home village. They had a son, Kiochan Mitrofan, who was left to be cared for by Alexey Chaniguchi for upbringing.
Matvei (Maht-vay') – A Kodiak, Toion for the Company, meaning a hunting leader. He drowned in 1824. Kirill Khlebnikov reported, "Earlier this month, the Aleuts returned here with the body of the Aleut Toion Matvei. They said that he had been at Bodega Bay and had separated from the others in a two-hatch baidarka. After waiting for him to return for a long time, they had found him dead on the shore with the baidarka. As his body did not show any suspicious signs, they concluded that the Toion had grown weak from rowing and with hunger and had died. The Alaskans than buried him. Matvei was the elder Toion here…"
Talizhuk Kosma (Tal-i-zhuk' Kos-ma') – A Kodiak, worked at Ross between 1820 – 1836, possibly as a hunter. His first wife was a Kashia Pomo woman, Yayumen. He and his second wife, Pelagiia, had two sons. Their names are Nikifor and Vasilii. He died between 1836 and 1838.
Taneikak Apianak Ivan – A Kodiak, his first wife was a Kashia Pomo woman, PIzhichimiy. They had a daughter, Olga, and son Chunyuun. His second wife, Pelagiia Mukaia, had three sons Il'ia, Marko, and Simeon. He died sometime between 1834 and 1838.
Osip Shaia (O'seep) – An Aleut, he lived at Ross for quite a long time. He was a leader or foreman of Alaskans. His first wife was possibly a Kashia Pomo woman, Myssalaya. His second wife, Alexandra, and son, Sazon, lived for years at Ross. It is possible that his first wife left with him to Alaska and returned with a Russified name, Alexandra. He was about 38 years old when he died from drowning.
Kasents – A Tlingit, his work at Colony Ross is unknown.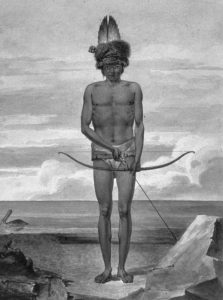 Balthazar – Possibly a Coast Miwok, this young man was painted by the Russian artist Mikhail Tikhanov (see the drawing below). Balthazar was painted with a front view and with a side view. He was baptized at Mission San Rafael along with his Miwok parents, Catcat and Bohomen. He may have been about 15 years old when the paintings were done. We believe they lived in the Bodega Bay region.
Chumamin – A Kashia Pomo woman who lived with Mikhail Siyazov, a Russian. When he returned to Sitka in September 1820, she returned to her native place.
Pokomin – A Kashia Pomo woman married to Filip Apangu, a Kodiak. They may have lived on the front terrace in the Alaskan neighborhood. When he returned to Sitka, she returned to her own people.
Mishishiya – A Kashia Pomo woman married to Tupulihkak Sava, a Kodiak. They also lived on the Farallon Islands.
El'bus'shika – A Coast Miwok from the Bodega region. She was married to Avenge Ivan, a Kodiak from Pasko village. They had a daughter, Anis yak Maria, and a son, Atunnuki.
Kelyaymin – A Pomo, from the vicinity of Ross, she was married to the Kodiak toyon (chief) Vasiliy Nanehkun. They had two daughters, Papinchin Akulina and Pipichupik Agrafena.