Natural History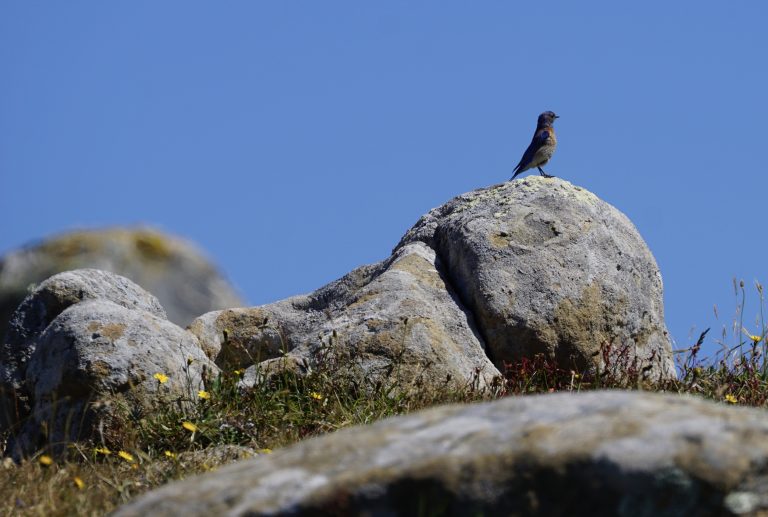 Western Bluebird {Sialia mexicana}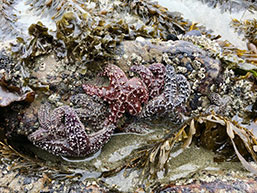 Ochre Sea Stars {Pisaster ochraceus}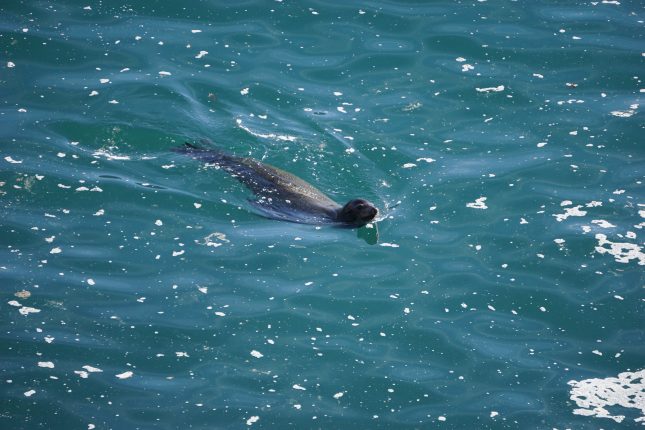 Steller Sea Lion {Eumetopias jubatus
The Natural Environment of Fort Ross
Natural History of Fort Ross and the Sonoma Coast
Flora and Fauna of Fort Ross – The following is a list of some of the plants and animals that you can see at Fort Ross. This place is bursting with biodiversity!
Mammals –
Black bear Urdus Americans
Black-tailed jackrabbit Lupus californium
Bobcat Lynx rufus
Brush rabbit Sylvilagus bachmani
Coastal black-tailed deer Odocoileus hemionus
Coyote Canis latrans
Feral pig, from wild boar Sus scrofa
Field mouse (vole) Microtus californicus
Gray fox Urocyon cineroargenteus
Mole Scapanus orarius
Mountain lion (puma) Felis concolor
Pocket gopher Thomomys bottae
Raccoon Procyon lotor
Ring-tailed cat Bassariscus astutus
Skunk, striped Mephitis mephitis
Spotted skunk (civet cat) Spilogale putorius
Birds –
American (common) egret Casmerodius albus
Black-shouldered kite Elanus caeruleus
Blackbird, ch.Brewers Euphagus cyanocephalus
Brown towhee Pipilo fuscus
California quail Callipepla Californica
Common raven Corvus corax
Gold finch (wild canary) Carduelis tristis
Golden eagle Aquila chrysaetos
Great blue heron Ardea herodias
Great horned owl Bubo virginianus & others
House finch (linnet) Carpodacus mexicanus
Hummingbird, Allen's Selasphorus sasin
Anna's Calypte anna
Junco, Oregon Junco hyemalis var.
Kestrel (sparrow hawk) Falco sparverius
Northern Harrier (marsh hawk) Circus cyaneus
Pigmy nuthatch Sitta pygmaea
Red-shouldered hawk Buteo lineatus
Red-tailed hawk Buteo jamaicensis
Robin Turdus migratorius
Sparrow, white crowned (weaver finch)Zonotricia leucophrys & others
Steller's Jay Cyanocitta stelleri
Swallow, barn Hirundo rustica & others
Turkey vulture Cathartes aura
Reptiles & Amphibians –
Alligator lizard Gerrhonotus multicarinatus
Fence lizard Sceloporus occidentalis & others
Garter snake Thamnophis sirtalis
Gopher snake Pituophis melanoleucus
Rubber boa Charina bottae
Tree frog, Hyla sp.
Insects & Arthropods –
Beach fly
Bumble bee Bombus vasnesenskii
European earwig Forficula auricularia
Ground nesting wasp, Vespula sp.
Sowbug Armadillidium vulgare & others
Tick, Western black-legged Ixodes pacificus & others
Flowers & Shrubs –
Adder's tongue Scoliopus bigelovii
Azalea, Western Rhododendron occidentale
Bracken fern Pteridium aquilinum var. pubescens
California poppy Eschscholzia californica
California blackberry Rubus ursinus
Caenothus, Pt. Reyes Caenothus gloriosus & others
Columbine Aquilegia formosa
Coyote bush Baccharis pilularis
Douglas iris Iris douglasiana
Hairy manzanita Arcostaphylos columbiana
Himalaya blackberry Rubus discolor
Huckleberry, blue & red Vaccinium ovatum, parvifolium
Indian paintbrush Castilleja wightii
Lupine, bush & coastal Lupinus arboreus, littoralis
Orange monkey flower Mimulus aurantiacus
Orchid Calypso bulbosa
Poison oak Taxicodendron diversilolum
Redwood sorrel oxalis oregana
Salal Gaultheria shallon
Salmonberry Rubus spectabilis
Thimbleberry Rubus parviflorus
Trillium Trillium ovata
Wax myrtle Myrica californica
Mushrooms –
Boletus edulis, Amanita muscaria & others
Trees –
Bishop pine Pinus muricata
Blue gum eucalyptus Eucalyptus globulus
Broad-leafed maple Acer macrophylum
Buckeye Aesculus californica
California nutmeg Torreya californica
California bay Umbellaria californica
Coastal redwood Sequoia sempervirens
Douglas fir Pseudotsuga menziesii
Grand fir Abies grandis
Monterey cypress Cupressus macrocarpa
Oak, live, canyon Quercus wizlizenii, chrysolepis
Pacific madrone Arbutus menziesii
Red alder Alnus rubra
Silk tassle tree, Garrya elliptica
Tan oak Lithocarpus densiflorus
Willow Salix sp.
Marine Mammals –
Blue, fin whales Balaenoptera musculus, physalus
California sea lion Zalophus californianus
Elephant seal Mirounga angustirostris
Gray whale Eschrictus robustus
Harbor seal Phoca vitulina
Humpback whale Megatera novaeangliae
Minke whale Balaenoptera acutorostrata
Orca whale Ornicus orca
Porpoise, harbor Phocoena phocoena
Porpoise, Dall's Phocoenoides dalli
Steller sea lion Eumotopias jubatus
Fishes –
Cabezon Scorpaenichthyus marmoratus
Kelp greenling Hexagrammos decagrammus
Lingcod Ophiodon elongatus
Rainbow seaperch Hypsurus caryi
Rockfish Sebastes sp.
Salmon, chinook & coho Oncorhynchus tshawytscha, O. kisutch
Marine Invertebrates –
California mussel Mytilus californianus
Gum boot chiton Cryptochiton stelleri & others
Limpets, Collisella sp. & others
Purple sea urchin Strongylocentrotus purpuratus
Red abalone Haliotis rufescens
Sea stars Pisaster ochraceous & others
Sea Birds –
Black oyster catcher Haematopus bachmani
Black Brant Branta bernicla
Brown pelican Pelecanus occidentalis
Canada goose Branta canadensis
Common murre Uria aalge
Double-crested cormorant Phalacrocorax auritus
Gulls, Western Larus occidentalis & others
Loon Gavia sp.
Osprey Pandion haliaetus
Pigeon guillemot Cepphus columba
Scoter Melanitta sp.
Surfbird Aphrizia vergata
Marine Plants –
Bull kelp Nereocystis lutkeana
Feather boa kelp Egregia menziesii
Iridescent seaweed Iridaea acordata
Pink coralline alga Lithothamnium pacificum
Sea palm Postelsia palmaeformis
Former Inhabitants –
California condor Gymnogyps californianus
Sea otter Enhydra lutris