Teachers Get Ready!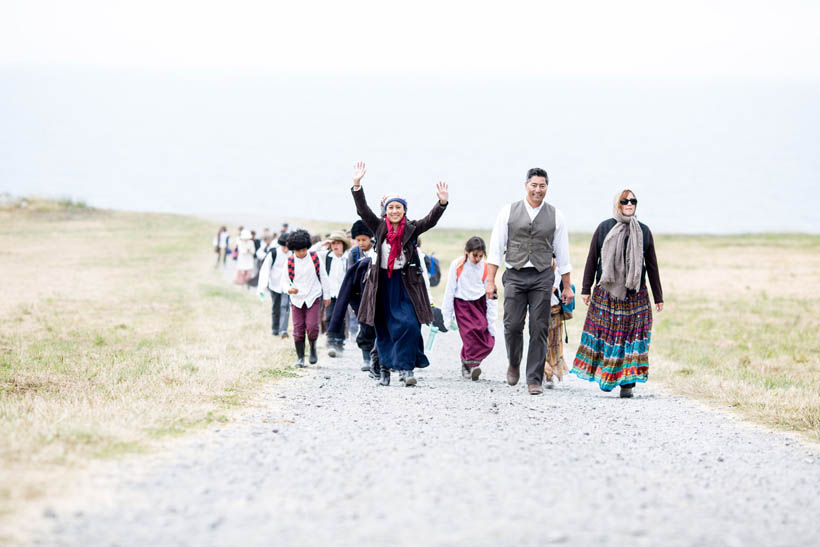 The Environmental Living Program provides students, parents, and teachers with a wonderful opportunity to learn about an unusual chapter in California history through hands-on participation. To prepare for a successful and stress-free ELP or ELDP carefully read through the following, including the information provided on the webpage links.
Dedicate at least 6 weeks of classroom time to prepare for your overnight stay
Study the ELP Website and be prepared to incorporate it into your classroom curriculum
Open Enrollment Booking Calendar – Open Enrollment for the Fort Ross Environmental Living Program (ELP/ELDP) starts April 15th at 7:00 a.m. Applications submitted before April 15th for the following school year will not be considered. All applications are accepted on a first-come-first-serve basis and according to space availability. If a school has multiple classes coming, each teacher must fill out his or her own reservation form.
Class Size – Reservations will be granted for one program for one class, or two classes if the total number of students is 40 or fewer. Teachers who team-teach will need to split the class into two groups, if the two classes total more than forty students; each teacher will have to submit a separate application. Teachers who team-teach a total student count fewer than forty may apply using one application. See the information below on parent participation numbers.
Teacher in Charge – Each class must have a teacher on site that has completed the Fort Ross ELP Teacher Training in order to participate in the overnight or day program. The teacher on the reservation form must be the teacher on site for the program — absolutely no substitutions are allowed. Reservations are issued to an individual teacher and are not transferable between teachers. The teacher and all parents must stay on site throughout the entire ELP session.
ELP Planning Essentials – It is important to remember, it is you, the teacher and parents, who make the ELP work. Your enthusiasm, creative interest, and pre-site planning will inspire the students' interest and give them the unforgettable learning experience that the Fort Ross ELP can provide. The purpose of this website is to help you plan for your program from start to finish, from classroom activities, parent meetings, all the way through your onsite program. Planning a big trip like this may seem a bit daunting, but take heart, read on and get comfortable with the website. It will work out. To that end, we have put together the following list of website essentials that we feel are the first webpages you'll want to use for familiarizing yourself with ELP, and how to plan and prepare for your ELP. We recommend that you start with the following webpages, and then continue to explore the rest of the website to add more to your ELP –
Info, Rules & Expectations – Some basic information, rules and expectations to get you off on the right foot
Forms – FRC's Liability Release forms are required and they must be signed by each and every participant of an ELP/ELDP at Fort Ross State Historic Park. This includes ALL teachers, parents, students, and any additional persons. Moving forward, Fort Ross Conservancy is implementing a zero-tolerance policy for unsigned Liability Releases. This means we cannot allow any participation in an ELP or ELDP for any person(s) who have not signed this required form. If any person arrives at Fort Ross without a signed Liability Release form, the lead Teacher of the group will be required to immediately drive that person home
Emergency Protocol – Please be prepared in case of emergency and read the Emergency Protocol!
Schedules and Arrival – Arrival protocols, what to do in the event of rain and a list of all ELP/ELDP schedules
Teacher Timeline – How to pace the ELP curriculum and prep throughout your school year
Role Groups – Learn the ins and outs of all role groups to choose from
Teacher Role Play Characters – Teachers use this list to select their Ross role play character
Russian American Company Roster – Teachers may use this sample roster to list all members of their company and email their completed roster to their ELP Instructor
Night Watch – Night watch is mandatory, please read
Student Curriculum – A student historical overview and questions for the classroom and while on site
Classroom Curriculum Ideas – Ideas to help you make the most of your classroom prep time
List of Items to Bring – A list of items to bring…Check it twice!
Costumes – ELP costumes can be simple or extravagant. Use this page to get ideas for your historic costumes
Mail Call – Although not required, mail call is a real treat for employees
Dance and Music at Fort Ross – Dancing is a wonderful part of the ELP experience. Use this link to learn more
Trail Maps – Fort Ross State Historic Park hiking trail maps
Teacher's Morning Cleanup Checklist – Teachers should use this checklist to be familiar with all necessary cleanup, and to ensure it gets completed
Going Easy in the Intertidal – Teachers please read, and go through this information with all employees and officers that will be going fishing and/or down to the beach
ELP/ELDP Field Trip Letter – (Optional) Teachers, feel free to print this letter to send out to your students parents, grandparents, guardians or other volunteers
Militia RAC Flag Ceremony & Activity – Teachers can use this to help plan and coordinate with their Militia role group
Clerks Creating a Trade Store – Teachers use this to help plan and coordinate with their Clerks role group
Trade Box Reservation Form – (Optional) If you'd like to reserve a Trade Box, click here for details
ELP Games – (Optional) Additional games you can plan to incorporate into your ELP.
Historic Contracts – (Optional) Teachers can have their student employees compare their contracts to these historic contracts
Additional Resources – (Optional) Contacts to hire Storyteller & Astronomer, additional resources and reference materials
Learn More – (Optional) Want to learn more? Here are some informative links about Fort Ross
Parents (Your Onsite Officers) – One of the first things you need to do is to find the parents who will help either in planning the trip or with the onsite activities. Some parents may be able to do both. Most teachers find that parents are very willing to help and are a tremendous resource.
Once parents have been assigned to a role group, make sure to direct them to their appropriate role group webpages. Make sure that the parents who sign up to participate know how much they are committing to, and are willing and able to follow through on any pre-site projects you give them. Also make sure that all participating parents understand that they will have an important and responsible job on site. Parents cannot expect to "do their own thing" while they are here. They will be with the student employees constantly and continuously while they are on site, and they are responsible for the welfare of the students.
In the Preparation section above there is a link to our Forms page. On this page you will find the mandatory liability waivers. These must be signed by every participant and brought to Fort Ross for the ELP Instructor. This form also includes a Media Release, which is optional for all participants. Additionally there are Teacher, Parent and Student Contracts included on the Forms page. All participants must agree and sign to all the rules listed in these as a condition of "entering the Fort Ross/Russian American Company. We strongly recommend making this into a fun project. For example, you can make the student contract into a scroll that all employees can sign — instead of printing one sheet of paper per person; let's go green!
Send out a letter telling parents about the program, describing groups and activities and ask how their skills may be of help. If you are lucky, you will find that you have a professional seamstress, a caterer, a gardener, an avid ocean-fisherman, an historical reenactor experienced with flintlock muskets, and a cabinetmaker right there in your classroom. OK, that line-up would be pretty lucky. Even if you find that you don't have any parents with the skills listed above, your trip to Fort Ross will go smoothly and be lots of fun as long as everybody pitches in.
Parent Officer Numbers – The intent of this program is for students to gain cultural, historical, and natural education and a sense of independence. We have found that if the ratio of students to parents is too high, the students focus more on the adults than on their independent learning experience. There is also a space limitation in our facilities; having too many parents brings added stress to the site and makes it more difficult for the teacher and ELP Instructor to manage the group. At most keep the ratio to 1 parent to 3 students with each role group depending on group size and activities. Please use the following examples as strict guidelines for officer numbers and note that you may be turned away at the gate if you have brought too many officers. Please contact the ELP Manager and ELP Instructor to discuss any questions or concerns.
For 40 students, and all 6 role groups, you will need a maximum of 14 adults, plus teacher –
2 Parent Officers for Militia
2 Parent Officers for Hunters
3 Parent Officers for Cooks
2 Parent Officers for Gardeners or Gatherers
2 Parent Officers for Artisans
2 Parent Officers for Clerks
(Optional) 1 photographer
For 20 students, and all 6 role groups, you will need a maximum of 11 adults, plus teacher (smaller classes that opt to enact fewer role groups, should adjust their number of Parent Officers accordingly) –
2 Parent Officers for Militia
2 Parent Officers for Hunters
2 Parent Officers for Cooks
2 Parent Officers for Artisans
2 Parent Officers for Clerks
1 Parent Officer for Gardeners or Gatherers
(Optional) 1 photographer
Note: The Photographer often sleeps with the Gardeners or Gatherers group, or in extra bedroom in the Officials' Quarters.
Teacher's Meeting with Parents – You will need to get all of the parents who want to be involved in the ELP together at a meeting as early as possible, a minimum of four weeks before your ELP date. At the meeting, you will need to explain what the program is about and encourage them with your enthusiasm. At Fort Ross you will need parent chaperones to help with each of the role groups: Artisans, Cooks, Hunters, Militia, Clerks and Gardeners or Gatherers. You will need two, or more likely, three parents for the cooks' area. It is great if one of them has some camping and/or wood fire experience. All other groups should have two adults with them. You may also find it helpful to assign one parent to photo-duty for the day and one rover. Together with the students, parents may be able to almost completely take over the planning for their role group's activities. Make sure you have copies of Role Group Sections and any other sections of this website pertinent to their job to hand out to the parents at your first meeting or the links in this website to send them to. If you can't find enough parents to help out on site, you may need to consider dropping out of the ELP for that year. Trying to handle all of the students, projects and activities without enough help can be very difficult.
Be Sure to Advise Parents –
The students are the employees; the parents are the officers who supervise
Parents must understand their responsibilities on site
Parents must keep the employees on task
Parents are to know where their students are at all times and therefore allow no unsupervised wandering
Parents' involvement in directing a quick and successful clean up is a must
Parents must sign the Parent Contract
Costumes are mandatory for students and parents