Family Camp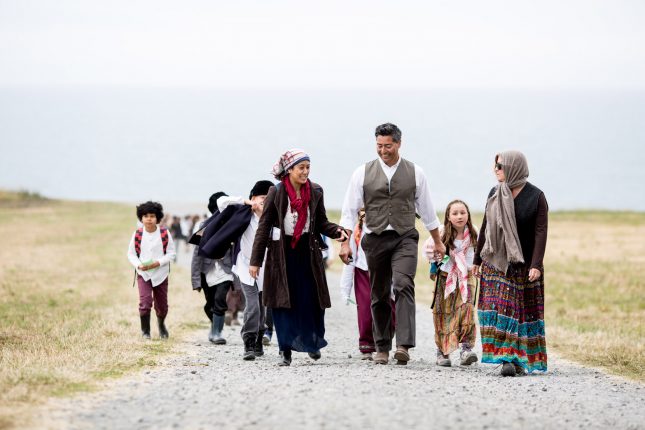 Would you like to experience a day in the life of Colony Ross with friends and family? At our Family Camp, you can dress up in 19th century costumes, sleep in the historic compound, cook in an outdoor kitchen, and try your hand at traditional Russian crafts.
Join Fort Ross Conservancy for our Family Camp for All Ages!
This program offers you the chance to experience daily life at Fort Ross with a trained instructor as your guide. Activities can include cooking your meals in an outdoor kitchen, fishing in beautiful Fort Ross Cove, gardening, making candles and artisanal crafts, weaving baskets, hiking the grounds, and an optional overnight sleepover inside the historic Fort Ross compound buildings!
Single Day Program Fee: $40/person The minimum fee for a Single Day Program is $280. Groups with fewer than seven people will need to cover this fee.
Overnight Program Fee: $60/person The minimum fee for an Overnight Program is $360. Groups with fewer than six people will need to cover this fee.
A $100 commitment fee is due upon confirmation. Commitment fees are non-refundable, but they are transferable with a minimum 7 day cancellation notice. Please call 707-847-3437 to pay by credit card or make checks payable to Fort Ross Conservancy.
These session can be customized to meet the needs and interests of your group. Email us with your questions! For more information email charonv@fortross.org.
What Does a Typical Program Consist of?
Fort Ross Cultural History Talk with FRC Instructor
Fort Ross Marine Ecology Walk & Talk with FRC Instructor – We can pull out our binoculars and spotting scopes to explore the marine mammals and intertidal zone.
Costumes – We strongly encourage a bit of role play, and part of that is dressing up for the times! Have fun with this, and either make your own (refer to the costumes webpage), or find a costume in the Fort Ross Conservancy collection.
* Starting from September 1st, 2023, costumes will no longer be a part of the family camp.*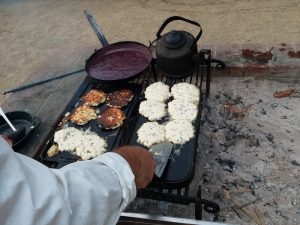 Cooking at Fort Ross – Cooking in the outdoor kitchen will take you back to the 1800's with the camp smoke billowing around cast iron pots and an open grill. Get inspiration from the sample menu. FRC supplies a full range of cooking tools and utensils including: cast iron spider pots that go right on the coals, cast iron griddles & pans, cutting knives, wooden spoons, cutting boards wooden bowls and baskets of many sizes.
FRC DOES NOT PROVIDE: food, coolers/refrigeration or tupperware.
Participants are responsible for starting and tending the fires and food. An outdoor washing station will be set up by participants with instructions provided by your FRC Instructor.
Please bring coolers and sturdy containers to secure food and keep the critters out!
Projects – Spend time working on craft projects from the 1800s. Get inspired by one of our many established projects, or bring your own!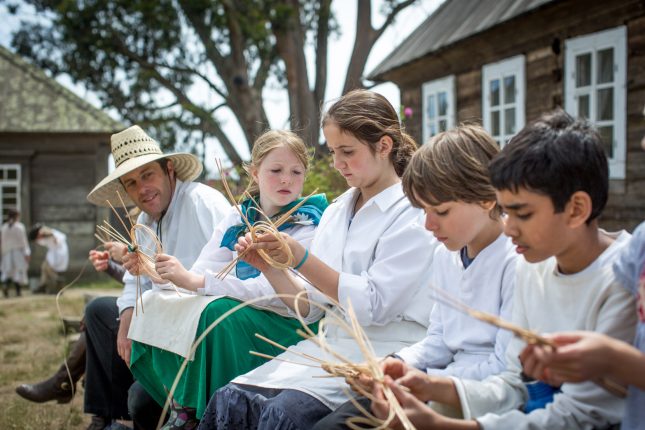 Other Activities –
Try your hand at fishing: When in season, visitors with valid fishing licenses can fish for rockfish from the shore and from kayaks. Abalone fishing is not allowed in this area, to give the abalone a chance to recover.
Sleeping Arrangements – There are approximately six bed frames with simple foam or straw mattresses, but for larger groups you'll be sleeping on the floor of the historic buildings, so feel free to bring a cot. Bring your sleeping pads, sleeping bags, pillows, and lots of warm PJ's! It can be quite cold here at night. Please note, that electrical outlets are limited. Please plan accordingly.
Firewood – Bring what you can. A typical overnight can use 8 boxes of wood (¼ cord).
Other Items to Bring – Please take a look at the Items to Bring list that we share with our regular ELP school groups. Some items might not be relevant, but this will give you a good idea of what to bring.
Required Forms – All participants MUST sign the FRC Liability form; we have one for adults and one for minors. If your group wants to share images from your stay (which we'd love), please sign our Media Form. Please sing and return the Covid liability form for each participant as well. The Head Organizer of your group must sign and turn in the FRC Contract – Overnight in the Compound.
Clean Up – All groups MUST clean, dry and put away all equipment belonging to FRC and California State Parks. Your FRC Instructor will provide instructions only.
Family Camp Sample Schedule – It's important to communicate with FRC staff if creating a custom schedule. You are welcome to use your own creative ideas to augment the onsite program. However, any significant variation from the sample MUST be discussed prior to your visit.