Home
Scouts and Service Projects at Fort Ross
Scouts and Service Projects at Fort Ross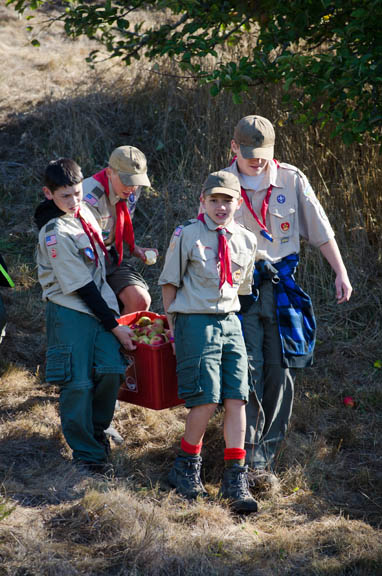 California State Parks belong to all Californians, so join us and offer a helping hand!
We welcome Scouts and other community groups to assist Fort Ross Conservancy and California State Parks with the ongoing work maintaining, repairing and improving our park facilities, trails, and so much more. Projects vary seasonally and will be determined shortly before your arrival. Typically we are able to schedule one Service Project per month.
Fort Ross Conservancy is a non-profit cooperating association. We depend upon grants, donations and fundraisers in order to staff our program opportunities at Fort Ross, including our Scouts Program. Starting in 2020, we will require a one-hour Educational Opportunity (Ed Op) to all scout groups who do service projects and stay with us. The fee for one overnight and the one hour Ed Op will be $20/person. In return for your service and the nominal fee you will be allowed to sleep overnight inside the historic Fort Ross compound and enjoy a one-hour presentation on the history or natural history of this beautiful site. Thank you for helping us to keep this wonderful service project opportunity available to all scout groups!
A $100 commitment fee is due upon confirmation. Commitment fees are non-refundable, but they are transferable with a minimum 7 day cancellation notice. Please call 707-847-3437 to pay by credit card or make checks payable to Fort Ross Conservancy.
Please send your questions to Charon Vilnai at charonv@fortross.org
Service Projects are also available at Salt Point State Park.
For Scout troops who can demonstrate need, fee waivers are available.
Travel regulations due to COVID-19 differ between counties. Please check with your county before applying. Thanks!
Thank you for your interest in doing a service project at Fort Ross. A service project at Fort Ross is four hours. We ask for scout leaders to take the lead during the service project time, even if an FRC employee is present. This is very important to the program. When we use the word leader – we are referring to the adults who are chaperoning the trip. Following, please find some important information pertaining to your visit.
The weather is quite variable at Fort Ross, please come prepared for cold, wet, fog, wind, and sun, all on the same day. Sunscreen and/or hats and a warm jacket are recommended. Please bring your own work gear and supplies, including work gloves. It is necessary to communicate with FRC staff ahead of your visit and find out your work project so you can arrive prepared.
Plan to arrive between 10 AM and 12 PM on the day of your visit (this can be flexible, please do discuss your arrival time with FRC staff). Leave your vehicles in the upper parking lot. Your gear can be placed in the fort and set up after 4:30 when the park closes. You are welcome to sleep in the fort compound or in tents. Please feel free to email with any questions.
---
Volunteer Service Form – We must have a copy of this form on file for you before you initiate a service project. Fill out one form for the troop leader only. We will provide the group signup form when you arrive — we understand that scout leaders often don't know who is to come until the morning of departure. Please have a designated work leader. You can bring all the forms with you on your service project day.
Liability Form for Minors - Fill out and sign and bring it with you
Liability form for Adults - Fill out and sign and bring it with you
Covid form for all participants - Read and sign one for each participant and bring it with you
---
Morning Clean-up Checklist – This is what we would like to see accomplished before your departure. We have brooms and dustpans for your use. Please do your best to be completed with clean-up by 9 AM.
General Behavior – Fort Ross is an outdoor museum. We expect that scouts will behave as they would in any public space and that they will treat museum buildings, exhibits, park staff, and park visitors with respect. You will be expected to replace or repair any park property broken or damaged during your stay. Running is not permitted anywhere in the fort compound. Playing inside the fort compound is not allowed during the visitation of other park visitors. Your group is expected to follow all Scout rules. This is a service project and each scout will be asked to work 4 hours. We ask all adults to participate as well.
Unloading and Sleeping Arrangements – Your gear can be unloaded from cars after the fort closes to the public at 4:30. You may sleep in the block houses of on the fort compound in tents or the open air. You may use tent pegs no longer than 8 inches. Other buildings are not to be used or slept in. We ask that close supervision is nearby to monitor the behavior and the needs of the scouts. By 9:30 AM the next morning, all gear must be removed from the fort and cars must be moved to the parking lot.
Cooking – You are welcome to cook on the open fire pit outside the Officers' Barracks. Please do not cook inside the buildings except…If it is pouring rain, you may cook inside on gas stoves. Propane only–no fuel stoves or fuel lanterns inside buildings. If you are forced to cook inside, be prepared to cover tables and floor with plastic tarps. Be aware that any food left outside will be strewn all over the fort by the raccoons. Put food in locked storage containers. Compost all food waste (compost pile is outside the fort compound inside the ELP garden). Do not put food waste in the garbage cans.
Fires – You may use the fire pit outside the Officers' Barracks for cooking and enjoyment. Fires are not permitted in any other location. You will need to bring your own firewood. Use good care and supervision around fires. Please keep fires to a moderate size. Do not under any circumstances use the fireplaces inside the fort buildings.
Clean-up – You will be expected to complete the attached clean-up checklist.
General Safety Concerns – Scouts are not to leave the group at any time without the approval and/or supervision of an adult. Use extreme caution around the cliffs and at the ocean. It can be extremely dark in the fort compound after sunset. Please make sure there is no running inside the fort due to the often hidden gopher holes. Be aware of the layout of the fort so that you are aware of the hard-to-see hazards after dark. We recommend that everybody has his/her own flashlight.
There is a phone in the Instructor's office to be used ONLY in case of emergency.
Visitor Center phone number: 707.847.3437
Morning Clean-up Checklist
The following checklist will be used by park staff to ensure that the Fort Ross is clean and ready for the public after your overnight visit. The Fort opens to the public at 10:00 AM. Please be ready for inspection, with your vehicles returned to the upper parking lot, by 9:30 AM.
1. Officers' Barracks
___floors well swept, including outside steps
___litter picked up
___tables wiped down
2. Rotchev House
___floors well swept
___litter picked up
3. Seven- and Eight-Sided Blockhouses
___personal gear removed
___floors well swept, including stairs
___litter picked up
4. Kuskov House
___floors well swept, including stairs
___litter picked up
5. Chapel
___floors well swept
___litter picked up
6. Fire pit area
___Rake around fire pit and wood pile
___pick-up any foil or non-burnable debris in fire pits
___Clean off fire-pit rocks
___clean outside kettle and dump water
___restack firewood pile
7. Miscellaneous
___walk grounds for litter/personal gear
___report any damaged or broken items
___all tools put away
Fort Ross staff will evaluate the clean-up.
EMERGENCY INFORMATION
For Any Fire or Medical Emergency Dial 911
There is a phone for emergency use in the Interpreter's Office.
Physical Address:
Fort Ross Conservancy
Fort Ross State Historic Park
19005 Coast Highway One
Jenner, CA 95450
VC Office # 707.847.3437
Physical Location:
We are located on Highway One; closest cross street: Fort Ross Road. We are 12 miles north of Jenner and 3 miles south of Timber Cove.
Responding Emergency Agencies:
If there is a medical or fire emergency during the day while staff is present, contact fort staff first. State Park Rangers will respond.
If there is a medical or fire emergency during the night or when there is no staff present, dial 911. The Timber Cove Volunteer Fire Department will respond.
Non-emergency Medical Help: Redwood Coast Medical Health Center. is located 28 miles north of Fort Ross in Gualala, about a 45 minute drive. Phone: 707-884-4005 (24 hours.) Russian River Health Center is located 28 miles south in Guerneville about a 40 minute drive. Phone: 707-869-2849 (24 hours).
IN CASE OF FIRE:
Make sure all children are safely away from the fort compound and under the supervision of adults.
FIRE EXTINGUISHERS: Are located at the main entries of all the fort structures.
FIRE HOSE: Is in the long box next to the well in the center of the fort compound.
DO NOT BLOCK ACCESS ROADS, GATES OR TRAILS
WITH PEOPLE OR VEHICLES!!!