Notice: The ELP webpages have been updated for 2023-2024. They are under final review. Thank you!
Home
Cooks Menu Ideas and Recipes
Cooks Menu Ideas and Recipes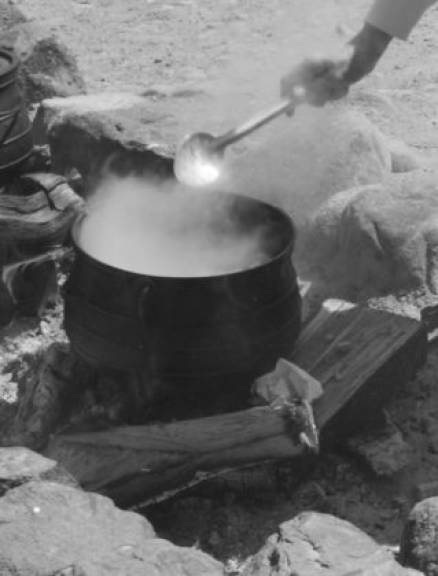 Suggested Dishes and Cooks Activity Group Tips –
Cooks Activity Groups are encouraged to use a mix of dishes from Kashia, Russian and Alaska Native cultures. Please see suggestions below. During the Russian era of Metini / Fort Ross (1812-1842), traditional Russian dishes would have been common but there was a strong mix of Alaska Native and Kashia dishes as well as international foodstuffs from China to Spain.
Use acorn mash from Farmers & Gatherers Group for acorn pancakes (less messy than from a mix)
Try to incorporate some herbs, fruits, vegetables and fish native to California
Soups like Borsch or Shchi served with hearty breads
Piroshki (meat and/or vegetable pies) are traditional fare in Russian homes. They are easy to make and are delicious. Make these ahead of time before your visit
Potatoes cooked any number of ways: in a stew, creamed, or boiled with sour cream or churned butter on top
Marinated beets are often a new and interesting food to try, and are fun to make
Kasha or grains can also be served in a variety of ways. Different grains can include a 9-grain cereal, wild rice or buckwheat. Try roasting them on the fire before cooking. For a tasty breakfast, add nuts and dried fruits or berries to the grains, serve with cream if you wish
Pancakes or blinis made on-site are not a good idea for breakfast. They can drip and make a mess on the fireplace stones. Please consider other options for breakfast
Dark Rye Breads or "Mission" style grain breads can be ordered from your local bakery. It is most important that the bread be different from the bread that the children usually eat. Using round loaves of bread can add to the difference
Coffee can be a different experience when you bring green coffee beans. Roast them on the open fire, grind and then pour boiling water on top. Then let grinds settle. It makes great coffee and will help parents and teachers get through chilly afternoons and night watch
Herb teas are a treat for the students. Herb teas could replace cocoa for night watch
Russian Tea Cakes can be served with herb teas or cocoa for night watch. Chinese Tea Bricks can be found online or at times at Cost Plus World Market
Menu Ideas –
Snacks –
Dried fruit – cranberries, apricots, pineapple, etc.
Mixed Nuts Beef jerky Piroshki
Dried seaweed, such as nori
Soft cheese with crackers and / or bread
Whole fruit – apples, pears, grapes
Salmon jerky
Sliced Veggies – carrots, cucumbers, green beans, radishes, etc.
Pickled Mushrooms and bull kelp (collect and pickle ahead)
Hard boiled eggs
Dinners – Pick at least three items
Soups – borscht, shchi, stews
Fresh fish – Salmon when in season
Piroshki
Potatoes
Green Beans
Whole Grain Breads
Churned Butter
Salad
Berries over sweet grain
Tapioca or Pumpkin Porridge
Night Watch Snacks –
Strawberry Thumbprint Cookies
Russian Tea Cakes
Hot Cocoa or Hot Tea
Breakfasts –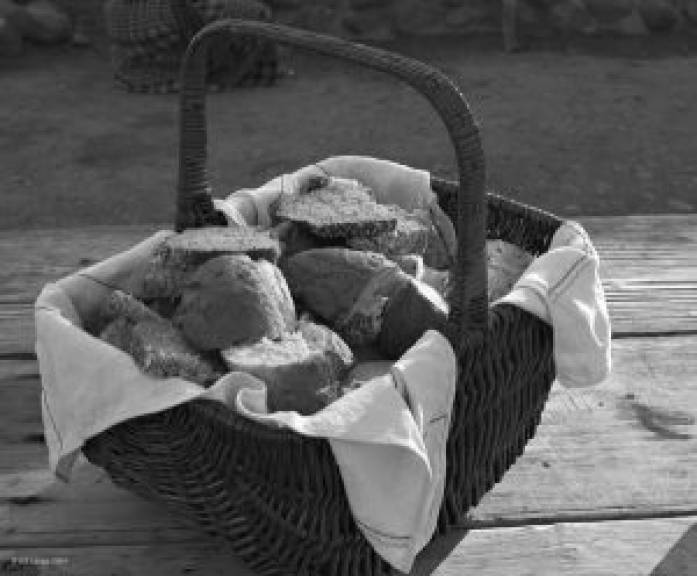 Kasha – Mixed grain hot cereal served with butter, Brown sugar, yogurts, and molasses to drizzle on the cereal
Scrambled Eggs – 4 ½ dozen + 1 C milk
Breads, Bagels & Cream Cheese
Fresh Fruit – 5 apples, 4 pears, 3 persimmons
Nuts Dried Fruit Butter Jams
Sliced cheeses Scrambled eggs Fruit
Tea and / or Coffee
Sack Lunches –
This could be a repeat of the layout of foods mentioned under snacks
Hard Boiled Eggs, Sandwiches, Whole fruit, Crackers
Lunch Day Two – Keep this simple and plan for no cooking or dishes
Sandwiches
Carrot sticks
Fresh fruit
Mozzarella cheese sticks
Nuts
Recipes –
Kashia Foods & Recipes – Traditional Kashia Pomo foods are prepared using local ingredients. Focus on using local, in season native ingredients like locally caught fish and seafood and locally grown herbs and produce.
Some great options –
Dungeness Crab
Oysters
Venison
Locally caught fish – halibut, seabass, flounder, rockfish
Native mint such as Yerba Buena
Berries - strawberries, blackberries, huckleberries, thimbleberries, elderberries
Locally foraged or sourced mushrooms / safe, edible mushrooms ONLY
Seaweed and bull kelp
Support Indigenous Owned Food Businesses – Check out this link for ideas on how to support native-owned food sources
Acorn Griddle Cakes - Makes 12-15 cakes
To make cakes, you will need the following:
2/3 C finely ground leached acorn meal
1/3 C unbleached flour
1 tsp. baking powder
1/3 tsp. salt
1 Tbl honey
1 egg, beaten
3/4 C milk
3 Tbl melted butter
Combine dry ingredients. Mix together egg and milk, then beat into dry ingredients, forming a smooth batter. Add butter. Drop batter onto hot, greased griddle. Bake, turning each cake when it is browned on underside and puffed and slightly set on top. Makes 12 to 15. Recipe from thepeoplespaths.net
Elderberry Juice or Tea from Elder Flowers
Strawberry Thumbprint Cookies – This is not a Kashia recipe but we encourage you to use local jam, strawberries have been an important and celebrated food to the Kashia (Strawberry Festival) but any local berry jam will do
Russian Recipes
Borscht – Serves 20+
There are countless recipes for Borscht, a hot or sometimes cold beet soup popular across Eurasia, from Poland to the Russian Far East. Feel free to improvise. We've offered a vegetarian recipe here, with options to use grated beets (for finicky children) or to add meat (to half of this recipe), if desired. And don't forget a healthy dollop of sour cream and fresh dill on top. Enjoy!
Ingredients:
6 medium beets (peeled and sliced or grated)
4 Tbsp olive oil
1/2 cube butter
16 cups vegetable or chicken broth (or equivalent bouillon cubes + water)
2 cups water
6 yukon potatoes, peeled and sliced into bite sized pieces
4 carrots, peeled and thinly sliced
4 celery stalks, trimmed and finely chopped
2 small red bell peppers, finely chopped (optional)
2 onions, finely chopped
1 small cabbage head, thinly sliced
4 Tbsp tomato paste and 4 Tbsp water (or 8 Tbsp tomato sauce)
2 cans white beans with juice (optional)
4 bay leaves
4-6 Tbsp cider or white vinegar
4-6 Tbsp honey
2 tsp sea salt
1/2 tsp black pepper freshly ground
2 large garlic cloves, pressed
2 lbs pre-browned and stewed beef (Optional, for half a batch of this borscht – see instructions below.)
1 lb sour cream
6 Tbsp chopped fresh dill
Instructions -
Easy Version – Put all ingredients except sour cream and dill in cast iron pots. Cook for an hour or two on the open fire. Top each serving with sour cream and dill.
Recommended Version –
Peel, grate and / or slice all vegetables (keep sliced potatoes in cold water until ready to use).
Heat cast iron pot and add 2 Tbsp olive oil and 1/4 cube butter. Add sliced or grated beets and sauté 10 minutes, stirring occasionally until soft.
Add broth and water. Add sliced potatoes and carrots, bring to a boil then simmer for 15 minutes or until vegetables are easily pierced with a fork.
While potatoes are cooking, in a second cast iron pot, add remaining oil, butter plus chopped onion, celery and bell pepper (optional). Saute stirring occasionally until softened and lightly golden (about 10 minutes). Add tomato paste or sauce and stir fry briefly then transfer to the other pot to continue cooking with the potatoes (or divide all ingredients between two pots, with the option of adding pre-browned and stewed meat to one pot).
Add sliced cabbage. When potatoes and carrots reach desired softness, add vinegar, honey, salt, pepper, garlic, bay leaves, optional beans (with juice) and 3 tbsp chopped dill.
Simmer for an additional 2-3 minutes and add more salt, vinegar and honey to taste.
Serve hot with a dollop of sour cream and sprinkling of fresh dill.
Vegetable Shchi Soup – Serves 10
4 oz Dried Mushrooms
2 Tbsp Butter, 3 Onions
2 Tbsp Dill, 2 Leeks
2 Carrots, 2 lbs Sauerkraut
3 Medium Potatoes
Sour Cream
Add all ingredients except sour cream to 3 quarts water, cook until tender. Add sour cream to taste on top of each serving.
Piroshki with Meat, Cabbage and Potato – Serves 10, Bake off site, ahead of time.
½ lb Cooked Beef – Chopped Small
½ lb Potato – Boiled and Chopped
½ of One Cabbage
Onions, Boiled Eggs, or other Ingredients appropriate for Metini / Fort Ross. Your Favorite Pastry or Bread Dough.
Saute all filling ingredients together. Roll out circles of dough, add the filling, fold dough over. Brush edges with milk and pinch. Bake at 350 for about 15-20 minutes.
Churned Butter – We have a butter churn on site. Depending on the size of your group and your needs (snack, dinner, breakfast) you will use from one quart to a half-gallon. Click here for more information.
Alaska Native Recipes – visit this link for more Alutiiq recipes
Iñupiaq, Siberian Yup'ik and Central Yupik recipes available in the Tundra to Table Cookbook
Pickled Bull Kelp – A great snack option! Requires gathering fresh kelp
Nasqulut – Bull Kelp in Alutiiq
4 cup rings or rectangles cut from stem of fresh bull kelp
¾ cup white vinegar
2 ½ cups sugar
1 tbsp mixed pickling spice
1 tsp whole cloves
Remove outer skin of kelp with peeler and slice into rings or rectangles. Soak the kelp in fresh water for three days, changing the water several times to remove the salt.
Enclose the spices in a cheesecloth bag and place in simmering vinegar and sugar for five minutes.
Remove spices and pour the hot syrup over the kelp. Let stand overnight.
Next day, drain off syrup, heat to boiling, and pour over kelp again. Let stand overnight.
Salmon Chowder - from the Tundra to Table Cookbook, serves 6-8
2 (16-ounce) jars canned salmon
1 (12-ounce) can evaporated milk
1 (15-ounce) can creamed corn
3 tablespoons butter
1 cup onion, diced
½ cup celery, chopped
1 teaspoon garlic powder
2 cups potatoes, diced
2 carrots, diced
2 cups chicken broth
1 teaspoon salt
1 teaspoon pepper
1 teaspoon dried dill weed
½ pound cheddar cheese, shredded
½ pound bacon, diced and cooked & drained
Melt butter in a large pot over medium-low heat. Once butter is melted, add onion, celery and garlic powder. Cook until onions are tender.
Stir in potatoes, carrots, broth, salt, pepper, and dill.
Bring to boil and reduce heat. Cover and simmer on low heat for 20 minutes.
Stir in salmon, evaporated milk, corn and cheese. Cook until heated through.
Sprinkle bacon bits over and serve. Enjoy!
Alaska Native Beef and Berry Stew – Serves 30
15 lbs Stew Meat
Flour for Dredging Beef
Olive Oil
9 Medium White Onions
13 Small Cans Beef Broth
10 cups Berries
6 Tbsp Honey
Salt to Taste
Roll meat in the flour and brown in olive oil in large spider pot (large cast iron pot with legs provided at the Fort). Then add the sliced onions and more oil. Add some broth to deglaze the pots and then add remaining broth and berries. Add water if needed. Stir in the honey. Cook over a low fire until all is tender and blended. Salt to taste.
Additional Recipes
Kasha (Buckwheat Groats) – Serves 6
1 Cup Buckwheat Groats
2 Cups Boiling Water
½ Tsp Salt
1 Tbsp Oil
Brown buckwheat in an ungreased skillet (cast iron works best), let cool. Bring water to a boil and add salt and oil. Stir in the cooled groats. Cover tightly. Reduce to low heat and continue cooking on low heat, stirring carefully once or twice. Allow to simmer for about 20 to 30 minutes. When water is all absorbed and kasha looks fluffy it is ready to be served with butter, milk or as a side dish.
Green Beans with Yogurt – Cook green beans. Let them cool and add 1 cup of yogurt per 1 lb. of beans. If you like, spice up the flavor with sautéed onions and garlic. This is a very typical Russian fare.
Soft Cheeses with Herbs – Serves 20
1 Cup Sour Cream
1 Cup Cottage Cheese
2 Cups Cream Cheese
Minced fresh herbs like basil, dill, garlic, chives, parsley, thyme and pepper are all good. Combine all ingredients into one bowl. This is great with dinner or as an afternoon snack.
Syirniki (Cheeses) – Serves 20
4 Cups Yogurt Cheese or Ricotta
4 Eggs
1 to 1 and 1/4 Cups Flour
1 Cup Sugar
Beat eggs. Add sugar and cheese, stir well. Add flour and stir until blended. Form into balls using a rounded tablespoon to measure each. Roll balls in flour. Flatten into patties about 1 inch thick. Fry in a little butter until both sides are deep and golden and seem set. (If they are brown but not set, try covering.) Eat hot with sour cream or cool.
Camp Coffee – Yields 14 eight oz servings Purchased one pound green coffee beans, roasted them in spider pot. Smashed them with antique coffee masher or mortar and pestle. Make coffee as you would with other grounds – French Press, Drip, etc.
(Optional) Large handful of crushed eggshells
Cranberry Kvas – This must be made off site, ahead of time. Kvas deemed yummy by kids. Had officer cooks pour so each person got a 2-3 oz splash…not a glassful. Yields approximately 2 wine bottles
4 lbs Fresh Cranberries
4 Quarts Water
1 Cup Fresh Peppermint Leaves
1 Tsp Baking Yeast
3 ½ Cups Sugar
1 Tsp Vanilla
Puree cranberries. Place in large enamel or heat proof glass container. Add 3 quarts boiling water. Cover & let set 24 hours. Strain. Soak peppermint leaves in 1 quart boiling water for 7 hours. Strain. Bring liquids to lukewarm temp (about 100° F). Stir in yeast, sugar & vanilla. Cover & let stand overnight. Pour into glass bottles, cork & store in refrigerator.
Lemony Kvas – This must be made off site, ahead of time. Yields 5 wine bottles
1 Lemon Cut in Half, Seeds Removed
3 ½ Quarts Boiling Water
1 Cup Raisins
1 Tbsp Each: Flour, Sugar, Dry Yeast
1 Cup Sugar
Juice of Three Lemons
Chop up the lemon & place in large enamel or heatproof glass dishes. Do not use metal. Add raisins & boiling water. Cover & let cool to lukewarm (approx. 110ºF). Dissolve in flour, sugar & yeast. Cover and let stand overnight. Strain, being careful not to get sediment. Add sugar & lemon to taste. Strain again through muslin or a very clean tea towel. Bottle (sterilize wine bottles in dishwasher), cork & refrigerate, standing upright!!
Pelmeni (A Siberian Recipe) – Bake off site, ahead of time. Pelmeni are filled dumplings made of noodle dough, similar to ravioli. You can assemble pelmeni ahead of time and freeze it.
Meat Filling –
1 lb Ground Pork
1 lb Ground Beef
Spices to Taste: Salt, Black Pepper, Garlic and Onion
1 Cup Boiled Water with 3 Bay Leaves
Dough (Make ahead of time) –
2 lbs White Flour
3 Eggs
1 Cup Milk
Assembly – On a lightly floured surface, roll out one ball of dough into a circle of 18 inches in diameter and a little less than 1/16 inch thick; be careful not to tear it. Cut 2 1/2-inch circles with a round cookie cutter. Fill each round with 1 tsp of filling, pushing it lightly to make a compact mound. Fold in half to form semicircles, fit the edges together and pinch well. Bring the corners together to form a loop and pinch to seal.
Cooking – In a wide pan bring 4 quarts of water, 1 Tbsp salt to a boil. Add bay leaves. Drop in as many dumplings as will fit easily in one layer and return to boil. Lower the heat and keep the water just at a simmer, uncovered; do not allow to boil vigorously or they will be ruined. The pel'meni are done when they rise to the surface. With a slotted spoon transfer them into heated bowls, sprinkle with melted butter to keep them from sticking together. Sprinkle with freshly ground pepper, perhaps vinegar, and serve immediately.
Russian Tea Cakes – Bake off site, ahead of time. Serve the Russian Tea cakes with a cup of warm cocoa and it makes for the perfect night watch.
2 Sticks Butter
2/3 Cups Sugar
½ Tsp Salt
2 Egg Yolks
1 Tsp Vanilla
½ Cup Confectioners Sugar
1 Cup Chopped Pecans or Walnuts
1 Tsp Baking Powder
½ Cup Cornstarch
2 ½ Cups Flour
2 Cups Confectioners Sugar for Rolling Baked Cookies
In a large bowl cream together the butter, sugar, salt. Add egg yolks and vanilla and beat until smooth. Add the confectioners sugar, nuts, baking powder, cornstarch, and flour gradually until all is used. Mix until thoroughly combined. Roll the dough into 1-inch balls and arrange them ¾ inch apart on ungreased baking sheets. Bake the cookies for 14 to 16 minutes, or until just firm and beginning to brown. Let the cookies cool for 5 minutes on the sheets. Put the confectioners sugar in a large bowl and while the cookies are still warm, swirl 6 cookies at a time in the bowl until they are coated with sugar. Transfer them to sheets of wax paper to cool completely.
Additional Sample Menu with Recipes – (Mary Collins School Cherry Valley Charter School) – Serves 26 kids, 17 adults
Early Afternoon Snack –
3 carrots cut into sticks, 1 cucumber sliced, 1 ½ lb green beans, 1 bunch radishes, halved
10 apples, 8 pears, 3 persimmons, 1 bag each green & red grapes, pomegranates cut into 1/8ths for lunch
Nuts – walnut and almonds
Soft herbed cheese (Fort Ross recipe) with 2 Boxes Ak-Mak, 1 Box other Crackers
1 Jar Pickled Mushrooms
"Griby v Marinade" –
1 lb Small White Mushrooms
¾ Cup Red Wine Vinegar
½ Cup Water
1 Bay Leaf
10 Peppercorns
2 Cloves Garlic
¼ Tsp Salt & Pepper
¼ Cup Olive Oil
Wipe mushrooms with a damp cloth. Bring vinegar & water to a boil. Add bay leaf, pepper, garlic & return to boil. Add mushroom & simmer 5 minutes. Let cool; then put in glass jar & top with olive oil.
"Syrnye Palochki" – Bake off site, ahead of time.
½ Cup Soft Butter
10.5 oz Grated Cheese
3 Egg Yolks
4 Tbsp Vodka
1 Tsp Salt
4 ½ Cup Flour
Mix well. Wait one hour. Roll dough out ½ inch thick. Cut into small sticks. Bake 350º F 10-15 minutes. Store in airtight container.
Dinner –
Borscht with 2 pints sour cream & ½ bunch chopped dill on side.
2 Sticks Butter
¼ Cup Olive Oil
5 Onions, Chopped
10 Yukon or Red Potatoes, Diced
3 lbs Beets, Grated
6 Carrots, Diced
2 Small Red Cabbages, Chopped
5 Tsp Each: Caraway & Dill Seeds
8 Cloves Garlic, Chopped
½ Cup Each: Balsamic Vinegar, Honey and Vegetable Broth Powder
Saute onions in butter & olive oil. Add everything else. Cover with water, bring to a boil. Cook for several hours. Serve topped with sour cream and fresh dill.
Pelmeni (Star Downey)– Served with choice of sour cream, vinegar or soy sauce, Bake off site, ahead of time.
Filling – yields ~ 400, about 8 per person; some will come apart in the water.
2 lbs Ground Lamb
4 lbs Ground Beef
6 Tbsp Corn Flour
2 Yellow Onions, Grated
1 Bunch Fresh Dill, Chopped Finely
½ Tsp Garlic Powder
Mix filling well. Keep in fridge. Work with only 1 pound at a time.
Dough – (made 6 or 7 batches) make one at a time as you work with filling
2 Cups White Flour
3 Tbsp Vegetable Broth Powder
¼ Tsp Turmeric Powder
1 Egg Plus 1 additional Yolk
½ Cup Water
Blend dry ingredients. Whisk eggs & water. Make a well in the flour, stir in egg water. Knead dough until smooth, not sticky. Roll out very thin on lightly floured board. Cut into 2 ½ inch rounds. Tuck 1 tsp filling onto round, moisten edge & seal. Freeze until use. Layer with parchment paper as you make these; not wax paper. Gently boil, lift with slotted spoon. Drizzle with butter & olive oil to prevent sticking.
Whole Grilled Fish – Hunters 'caught' an 8 lb whole salmon, (purchased at Bodega Bay for best price). Parent with experience expertly filleted salmon. Bring sharp fillet knife. Pieces were wrapped in foil w/slice lemon, salt & drizzle of olive oil; then cooked on edges of fire or on elevated grate.
Carrot Apple Salad – Serves 20
8 Carrots
4 Apples
2 Tbsp Each: Olive Oil, Vinegar, Sugar
¼ Tsp Horseradish
½ Tsp Salt
1 Handful Chopped Walnuts
Mixed Greens (two one pound boxes)
Oil & Vinegar Dressing
6 Tbsp Red Wine Vinegar
1/2 Tsp Salt
2 Tsp Dijon Mustard
2 Minced Garlic Clove
4 Tbsp Herbs
1/2 Cup Olive Oil
Grate carrots & apples. Whisk all dressing ingredients together. Toss everything together.
Pear Pie "Pirog s grushami" – Make 2 Pies, Bake off site, ahead of time.
3 Cups Flour
1 Tsp Salt
1 ½ Cup Butter
1 Egg
5 Tbsp Sugar
¼ Cup Vodka
6-8 Pears, Peeled and Sliced
Cut shortening into flour & salt. Mix egg, sugar & vodka. Stir into flour / shortening mix. Do not overmix. Cut wax paper pieces to cover a cookie sheet. Spread dough onto cookie sheet evenly. Top with sliced pears. Bake 375ºF 10 minutes.
Topping –
1 Cup Butter
1 Cup Sugar
3 Eggs
5 Tbsp sour cream
1 Tsp Vanilla
5 Tbsp Flour
Cream butter & sugar. Add eggs one at a time. Add sour cream & vanilla, then stir in flour. Spread topping over pears. Reduce heat to 350°F. Bake one hour.
Pumpkin porridge – Made in spider pot – stir, stir, stir!!
2 10 oz Cans Pumpkin or Fresh Cooked
1 lb Brown Sugar
1 Quart Cream (used buttermilk leftover from churning butter instead, plus ½ cup water)
6 Eggs
2 Tsp Cinnamon
1 ½ Tsp Ginger
¼ Tsp Ground Cloves
Two Boxes Graham Cracker Crumbs
Combine ingredients, but reserve ½ box Graham cracker crumbs to thicken if necessary. Stir continuously over low heat until cooked. Burns very easily. Can be served straight from the spider pot.
Hot Russian Honey Drink –
6 Tbsp Each: Cinnamon, Whole Cloves
12 Tbsp Ground Nutmeg
3 Quarts Water
1 ½ Cups Honey
Tie spices in cheesecloth bag. Boil all together 15 minutes.
Breakfast –
Cherry-Berry Kissel –
24 oz jar Cherries in Syrup
1 Bag Frozen Blackberries
6 Tbls cornstarch
Drain fruit, set aside. Ddd water to make 1 quart. Mix together. Bring to a slow boil. Cook until thick. Serve over kasha.