Home
Classroom Curriculum Ideas
Classroom Curriculum Ideas
Classroom time is in many ways the most important aspect of the Environmental Living Program. Intertwining the history of Fort Ross with the history of the rest of California and the North Pacific will encourage a better understanding of California's changing history and encourage creative thinking for both students and teachers. Additionally, the subjects of social history, cultural history, economics, geography and natural history can all be integrated in to the ELP classroom learning experience.
When students arrive at Fort Ross with an understanding of the site's natural and cultural history, they are able to get a much richer experience out of the onsite visit. There are many ways to encourage student interest: write book reports, give oral reports, do role-playing, do video interviews in character, make and use visual aids (bulletin boards, collages, etc.), see films, draw pictures of the fort, research period costumes, learn Russian songs and dances, create a puppet show about Ross, research Russian foods and practice cooking, learn Russian games, establish an in-class trade system. The ideas are endless. The more students become involved and creative, the more they will benefit from the program. We could not even begin to list all of the wonderful projects that we have seen teachers carry out with their students before their onsite visit. Be sure to first read through the links on each role group page, then use some of the projects listed below or let them be inspiration for your own projects.
Role-playing is a must if coming on the overnight or day Environmental Living Program. Biographies of those who lived and worked at Ross is a great way to learn about the people who make up the local history. We encourage you to do research on these real people
Have the students and parents make their own Costumes for their ELP group
Create a Trade Store for the classroom or your onsite visit. Throughout the year have the children make things like bead necklaces, paint headscarves, weave belts, hard candies etc. As the school year progresses, have the children earn rubles for good work or conduct. When you come to Fort Ross, put all of the items together into a Trade Store where they can spend their hard earned rubles. Have them keep a bank balance of rubles earned. You can also pay them for their onsite work. Design a Class Banking System based Russian American Company wages and trade items. Math skills can be used to figure out what an 1821 gold ruble was worth as compared to an 1821 dollar and a current dollar. Put a Russian Naturalist like Ilia Gavrilovitch Voznesenskii into your science unit. Discuss the kind of work he was doing at Fort Ross in 1840. Have children read and react to primary source materials written about Fort Ross
RAC Papers (Travel Permits) – Each student should have Russian American Company papers which s/he always has available to show an official during the stay at Colony Ross. The passes can be fairly simple or elaborate. The children should do their own pass as part of character development
Design a Russian American Company Flag and/or have the militia write a flag salute
Design a Fort Compound of your own and then see how it compares to the Russian Fort
Create a Fort Ross Meal
Each role group can design their own banner, which reflects their group duties and responsibilities
Learn about our Natural History and/or grow a plant that was grown here at the fort. Learn How to Go Easy in the Intertidal. The natural history with the coastal terrace, the redwood environment and the marine life can fit into all age levels of study. The use of your parks develops and encourages an understanding of the value of the resources around them in their daily lives. The benefit to the park is stewardship and respect. We want students to care deeply about the quality of life in their community, and their world
Research and prepare foods they were growing at Fort Ross relating to the Russians, Kashia, or Alaskan food traditions
Learn what the missions were growing and how it influenced Fort Ross
Play Russian games, Kashia games, or Alaskan games
Write book reports from the many books relating to the presence of The Russian American Company
Students may make journals out of brown paper bags. Include Russian Alphabet and Russian phrases. Student could write from the perspective of an Alaska Native, Russian, or Native Californian
Math/P.E. – Post an enlarged map showing distance from school to Fort Ross. Students could run around the schoolyard, adding up their distances, calculating the amounts that eventually add up to the distance to Fort Ross
Learn the Chronology of Fort Ross
Establish "Company" policy as your classroom rules
Crafts, such as basket making, butter churning, leather work, wood work, paint a wooden spoon, weave a Russian belt, or have a weaver come in and spin and dye wool, sewing or embroidery are great home or classroom activities. Here are instructions for weaving a Russian belt –
Weaving A Russian Belt – Students will weave Russian belts or embroider a muslin or linen towel. They will see how colorful and beautiful textile crafts alleviated the drabness of life, as well as understand and appreciate the time and effort involved in producing handmade items

Materials – 2 colors of thick bulletin board yarn, scissors
Method 1 – Cut 5 strands twice the length of each student's waist, with 2 strands in one color and three strands in another color. Tie off each of the two colors into a knot. Taking the knotted bunch with three strands, place it in your left hand and hold the knotted bunch with two strands in your right hand. Starting on the left side, take the outermost strand, braid it over and under the strands next to it and bring it to the right side. On the right side, taking the outermost strand, braid it over the strand the same color and under the strand next to it (just brought over from the left side) so that the outermost strand that was on the right side has been brought over to the left side. Start again with the outermost strand on the left and bring it over and under and to the right and the same next on the right side with the outermost right strand going left side/right side/left side, etc., until the belt is the desired length. Tie off the left side strands into a knot and the right-sided strands into a knot to be able to wear it
Russian Belt Variation to Method 1 – Braid the outer left and right strands over and under every two. It is easiest to braid these belts standing up or to tie them to a chair or other immovable object
Russian Belt Method 2 – (Same materials as above) Start with 5 strands cut twice the length of each student's waist with 2 strands of one color and three strands in another color. Tie off all strands into a knot and lay them flat. Starting from the left with the outer list strand, weave it over, under, over and under until it is horizontal to the other four strands. Then, starting from the left again, weave the outermost strand over, under, under, over, so that it is parallel to the first strand that was brought to the right. Then place the first strand that you started weaving with over the strand that you just brought over so that you again have four strands laying vertically and one horizontal to them. Start again from the left with the outermost strand repeating the above procedure until the belt is the desired length. To complete it, tie off all the strands into a knot and cut off the excess you don't want for fringe. The belt will look like so –
Pull tightly to keep the width of the belt uniform. If you are using regular 4-ply craft yarn, you will need 15 strands all together to achieve a belt 1/2″ wide. This, however, is not recommended because it is far too time-consuming and frustrating to finish in an afternoon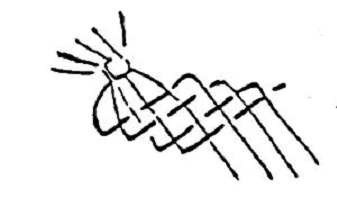 Compare music, arts, religion, dress, homes, or food of the various cultures at Ross
Make a scarf or an apron – or a Russian style hat
Pouch – Each student makes a pouch to carry water, pass, journal, pencil, and rubles
Take oral history accounts from local elders to learn about their own community and the people around them. Learn how to conduct an interview
Trace their own family history. Where does their family come from? What country? Where were they born? When did they first arrive in this country? Why did they come to the United States? What jobs did they do? Conduct an interview of their parents, grandparents, and other relatives. Are there photographs and other documents that can help tell the story? What special family holidays and celebrations do they celebrate today that originated in the relatives country? Are their songs, family recipes, and other traditions that can be shared? On a map show where their family is from
Visit sites of Cultural and Natural Interest
International trade and commerce was one of the most motivating factors in the Russian, American, British, and Spanish expansion of the North Pacific. What trade routes did those in the North Pacific take? And whom did the RAC trade with? What ships were used? What were the trade prices and for what trade item? Who gained economically and how? Did everyone make a profit?
Learn about the oral traditions of the Kashia Pomo, Southern Pomo, and Coast Miwok
Compare different music, art, religion, dress, home construction, folktales, and food of the three main cultural groups that lived here; Russian, Alaska Native, and the Kashia Pomo and Coast Miwok people
Use the Russian Vocabulary and Phrases for spelling words. Begin introducing Russian words and phrases
Here is a list of spelling words –
Alaska
Aleuts
Armory
Baidarkas
Barracks
Blacksmith
Blockhouse
Bodega Bay
Chapel
Coast Miwok
Colonists
Kashia
Kodiaks
Militia
Pantry
Redwood
Russia
Samovar
Siberia
The Student Curriculum is an excellent learning resource for all ELP participants. It provides a student-level history of Fort Ross, as well as a list of questions for further classroom and onsite learning. Please be sure to also review the page links under each role group, and visit the ELP Games for more ideas. You are also welcome to use The Fort Ross Conservancy Digital Library.